"Revolutionize Your Dental Practice with All-on-1™ Mono Implant Academy's FULL MOUTH Implant Training Program"
The academy aims to educate dental professionals on the benefits of using mono implants, a groundbreaking technology that has been used successfully outside the US for over two decades. With mono implants recently FDA-approved and now available in the United States, dental professionals can now offer patients an
affordable and effective solution
for FULL MOUTH implants. They are superior to All-on-4™, cost less, and easier to learn and place. It's flapless surgery with ZERO bone reduction.
Register For Our Next Seminar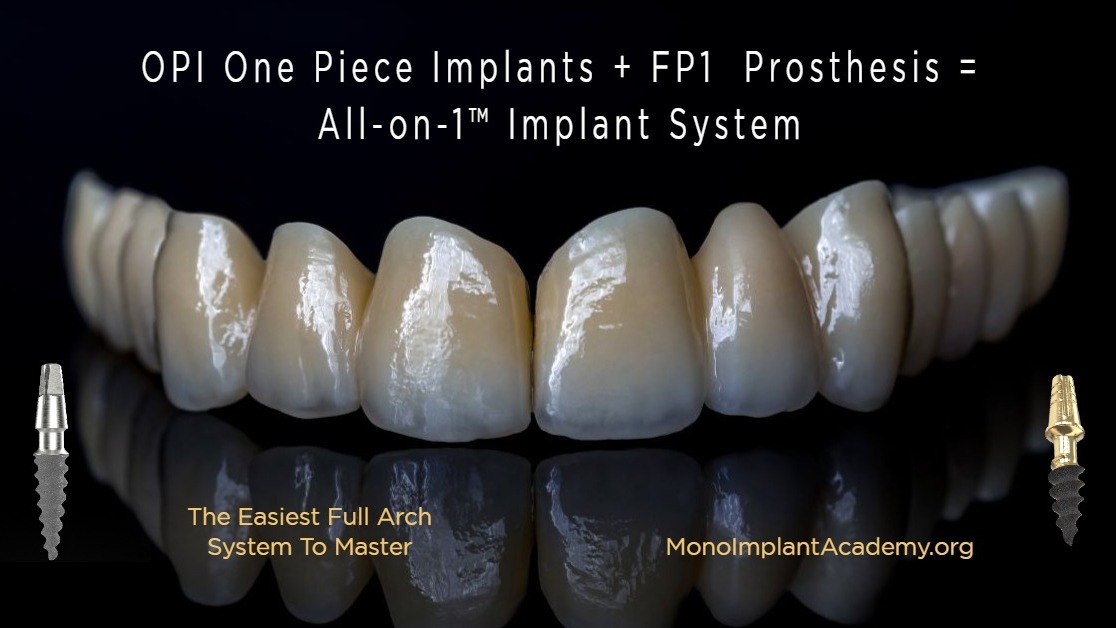 Learn Why Mono Implants Are The Gold Standard Of Dental Implants
All-on-4™ verses All-on-1™
A major advantage of All-on-1™ mono implants is that they are more stable than All-on-4™ implants. With All-on-4™ implants, the angulation of the implants can create pressure points, which can lead to fractures in the implant or the cantilevered full arch prostheses. All-on-1™ mono implants offer a more stable solution since 8 to 12 implants are placed, which provides more support to the full ache prosthesis.
Sign Up For Our Next Mono Implant Training Seminar
"Mono Implants vs Traditional Implants: Comparing Cost, Convenience, and Quality"
Choosing All-on-1™ mono implants over traditional methods can save patients time, money, and discomfort. The procedure is also suitable for most people, including those with reduced bone density, and can provide a permanent solution to missing teeth.
"The Future of Dental Implants is Here! Discover the Benefits of Mono implants Today!"
Mono implants are the latest innovation in the field of dental implants – which means they provide a much better solution than their predecessors. At their core, mono implants are one-piece implants that replicate the natural root structure of your tooth.
"Full Arch Mono Implants: Providing Greater Support and Durability Than All-on-Four!"
You see, the beauty of this approach lies in its ability to provide greater support to the full arch, so there isn't the risk of the full arch prosthesis fracturing as is the case with All-on-4™ cantilevered arches. But the real kicker here is that if there ever was a problem with the support system, it's a simple fix with mono implants. No need to go through the hassle of redoing the entire system, like you would have to if you opted for an All-on-4 dental implant full arch.
"The Future of Tooth Replacement is Here: Discover the Benefits of Immediate Load Mono Implants"
Their ability to support immediate loading is at the heart of mono implants' success. That means that a new tooth can be placed onto the implant immediately after it is inserted without a prolonged waiting period. This process is often referred to as "same day" or "immediate" implants because it allows you to receive a new tooth almost instantly.
"The Game-Changing Advancement in Dental Implants: Mono dental Implants and CERIC Technology!

"
While traditional dental implants have been a reliable option for many patients, the introduction of mono implants with CERIC technology has revolutionized the field of dental restoration.
Here Are Some Of The Benefits Of Bendable Titanium Mono Implants
Mono implants are self-taping small implants similar in size to mini implants. Therefore, they don't require major surgery, as does a traditional implant.
They cost the dentist 10% - 12% of the cost of a traditional implant, so you can afford to have a small stock of them on hand.
They are stronger than traditional implants because they aren't hollowed out to accept a screw. Instead, they are single-piece implants to secure a crown or bridge.
The implants can be secured into the strongest part of the jawbone so they can be loaded immediately.
Mono implants don't create bone loss and can even grow your bone.
Mono implantation is easy to learn, so you can place implants the day after your training.
There is no confusion and anxiety learning the mono implant system as there is with other implant systems.
The cost of a full arch is significantly less than the cost of All-on-4 implants.
You can use more implants (8-12) to support the prostheses building a stronger foundation to distribute the force of a patient's bite.
You can offer your patients a dramatically less expensive implant, so you are able to close more cases.
You can break through the income ceiling that PPOs have imposed on your income and strategically build your implant revenue to $80K a month.
You can increase your take-home pay because of a high profit margin with mono implants.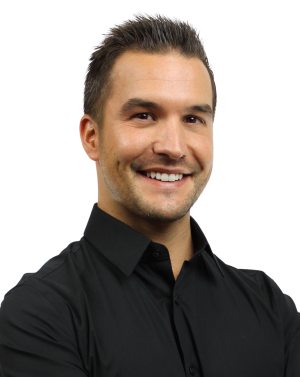 "We are excited to launch the Mono Implant Academy, which will serve as a hub for educating and training dental professionals on the latest techniques and technologies in dental implant care," said Dr. Jared Van Ittersum, CEO of Mono Implant Centers. "Our goal is to educate and empower dental professionals to provide high-quality, affordable dental implant care for patients throughout the nation."
Dr. Jared Van Ittersum, the Chief Executive Officer of Mono Implant Centers. "The academy is a testament to our commitment towards imparting knowledge, skills, and expertise to dental practitioners across the country."
Designed to provide comprehensive training in the use of mono implants, the Mono Implant Academy offers a unique opportunity for dental professionals to improve their expertise and deliver advanced-level services to their patients. The academy offers a range of courses, including hands-on training, seminars, and webinars, all led by Dr. Elias Achey and Dr. Jared Van Ittersum
"For years, dental professionals have been searching for a more affordable and effective solution for patients seeking dental implants," said Dr. Elias Achey, Chief Dental Officer of Mono Implant Centers. "With mono implants now FDA-approved and available in the United States, we have a unique opportunity to make this revolutionary technology accessible to patients across the country."
"For us, it's about bringing affordable, high-quality implant mono implant procedures to patients in the US. The academy offers an opportunity for dentists across the country to learn about the benefits of this technology, which offers high success rates, improved outcomes, and faster healing times," said Dr. Elias Achey, the Director of Clinical Affairs at Mono Implant Centers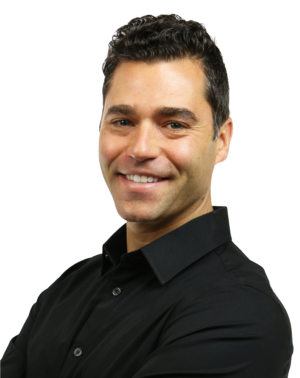 "Gain the Confidence and Knowledge to Provide Full Mouth Implant Care with Mono Implant Academy"
The academy is open to dental professionals, regardless of their experience, with courses offered so you will be ready to start offering the FULL MOUTH mono implant system to your patients.

The academy's course content includes:

Implant selection and placement protocols

Digital treatment planning and CAD/CAM techniques

Immediate implant placement and restoration
Dentists who attend will benefit from the knowledge and skills that they will gain, which can be used to improve patient care, build a practice, and advance their career.

The opening of the Mono Implant Academy marks a significant milestone in the dental industry, as dental professionals can now access training and resources to provide high-quality, affordable FULL MOUTH dental implant services to patients.
Register For Our Next Seminar